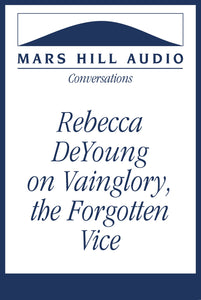 Regular price
Rebecca DeYoung on Vainglory, the Forgotten Vice
During the last thirty-five years — and particularly since Alasdair MacIntyre's After Virtue — contemporary moral philosophy has recovered the language of virtues. Virtue ethics has its roots in ancient Greek philosophy, but was soon adopted into the Christian tradition by the early church fathers.

With the naming of virtues, of course, comes the naming of vices. In this conversation, philosopher Rebecca DeYoung explains how the language of vices speaks to patterns or narratives in our lives that are distinct from original sin and from acts of rule-breaking. Drawing from the wisdom of the Desert Fathers, DeYoung describes vainglory and the other "deadly sins" as capital vices from which more vices materialize.

But what is vainglory? Most people know the seven deadly sins — if they know them at all — as gluttony, greed, sloth, envy, wrath, pride, and lust. But traditionally, pride was the source of all vice and vainglory was among the original list of seven. Though this bygone word seems to have disappeared from our cultural memory, DeYoung argues that it is a term worth recovering in a time when we are constantly tempted toward vainglory.
56 minutes.