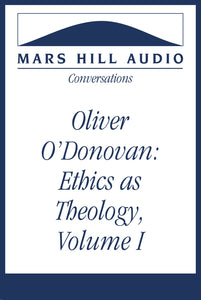 Regular price
Ethics as Theology: Volume I
"Spontaneity is doing what comes into your mind. Freedom is not doing what comes into your mind; freedom is doing what you have in your mind."
—Oliver O'Donovan
In this extended
Conversation
, moral philosopher,
Oliver O'Donovan,
joins Ken Myers to discuss the first two volumes of O'Donovan's three-volume set
Ethics as Theology
. In this conversation, O'Donovan identifies some important touchstones that have guided his thinking about moral reflection, including his insight in
Resurrection and Moral Order
(1986) that moral thinking and action proceed from, and must resonate with, the realities of the created order. O'Donovan also reflects upon the significance of the thinking moral subject as well as what form of moral inadequacy the "life of the flesh" suggests.
Portions of this interview were originally published on
Volume 127
of the
MARS HILL AUDIO
Journal
. 60 minutes.