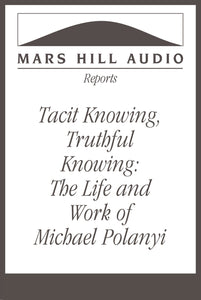 Regular price
Tacit Knowing, Truthful Knowing
Though largely ignored, the work of research chemist-turned-philosopher Michael Polanyi (1891-1976) offers rich insight into the methods of science, the role of belief in all human knowing, and the important connections between knowledge and responsibility. Tacit Knowing, Truthful Knowing explores Michael Polanyi's criticisms of both objectivism and subjectivism, and his attempts to develop a more truthful understanding of how we know the world. His ideas are based on the belief that all knowledge is either tacit (silent and unspoken) or rooted in tacit knowledge.
This Report features interviews with leading interpreters of Polanyi's thought, including Marjorie Grene, Richard Gelwick, Thomas Torrance, and Martin X. Moleski. Interviews with Nobel Prize-winning chemist Dudley Herschbach, educator Steven Garber, and master violin makers Peter and Wendy Moes, along with readings from Michael Polanyi's books and correspondence, further illuminate his ideas.
2 hours 30 minutes. $15.