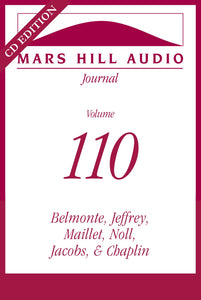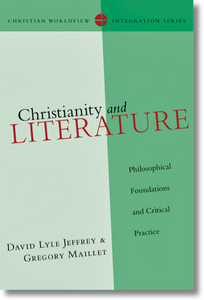 Regular price
Volume 110 (CD Edition)
Guests on Volume 110
• KEVIN BELMONTE on how G. K. Chesterton embraced a "defiant joy" in spite of the cynical pessimism of many of his contemporaries
• DAVID LYLE JEFFREY and GREGORY MAILLET on why Christians cannot afford to regard literature as a mere entertaining diversion
• MARK NOLL on what motivates anti-intellectualism among Christians and why it is a theologically-indefensible prejudice
• ALAN JACOBS on W. H. Auden's understanding of the vocation of a poet and on the spiritual and historical background to Auden's 1947 book-length poem, The Age of Anxiety
• JONATHAN CHAPLIN on the outlines and sources of the social and political thought of Herman Dooyeweerd and on his understanding of the relationship between theology and Christian philosophy


Click here to download a pdf file with the contents listing and bibliographic information about this Volume.
Kevin Belmonte

"When he began to come through his period of despair, he says 'We thank people for the gift of cigars or the gift of slippers at Christmastime; can we thank no one for the birthday present of birth?'"
— Kevin Belmonte, author of Defiant Joy: The Remarkable Life and Impact of G. K. Chesterton (Thomas Nelson, 2011)

Kevin Belmonte talks about the life and impact of G. K. Chesterton. Chesterton began his career as an art critic who was deeply affected by the modern art world's pessimism regarding the state of the world. He only emerged from the "slough of despond" through his recollection of the imaginative fairy tales of his youth and through the literature of authors like Robert Browning, George MacDonald, and Walt Whitman. Belmonte describes how great poetry and literature continued throughout his years to shape his inner life with joy - a joy that overflowed into his public writing and speaking.        ⇧
•     •     •
David Lyle Jeffrey and Gregory Maillet
"If a student has not got a capacity to absorb truth from figurative speech - truth from fiction - then there is a tremendous deficiency in the range of wisdom that that student will be able to acquire."
— David Lyle Jeffrey

"As students experience great Christian literary texts, they move away from a subjective re-creation of reality towards the sense of reality as God created it."
— Gregory Maillet

David Lyle Jeffrey and co-author Gregory Maillet reflect on the conceptual foundations for literature in light of the truths of Christianity. They point out how critical it is for churches to cultivate strong skills of literacy in order to properly study and absorb Scripture. Much of Scripture, they point out, is not mere propositional truth, but poetry and other forms of literature that involve the imagination. We should learn from Jesus' use of metaphor and poetry and parable that the nature of life-giving truth and how that truth is acquired depends upon the use of imaginative literary forms. In their book Christianity and Literature: Philosphical Foundations and Christian Practice (Intervarsity Press, 2011) Jeffrey and Maillet set out to provide concepts and tools to help students better appreciate and understand how literature functions and what literature can accomplish in drawing students out of a subjective self into a real, objective world of beauty and order. Lastly, they discuss the monumental influence of Augustine's On Christian Doctrine on the study of literature in Western history.        ⇧
•     •     •
Mark Noll
"The life of the mind certainly can be perverted and turned to self - mental activity can be idolatrous - but it can only be these evil things because it's a good thing that God has created for the use of his glory that then can be perverted."
— Mark Noll, author of Jesus Christ and the Life of the Mind (Eerdmans, 2011)

Historian Mark Noll discusses the Christian life of the mind. He talks about the difference between "integration" and "integrity" with respect to Christian belief and the pursuit of knowledge, arguing that the life of the mind is not somehow exterior to Christianity (or vice-versa), but that Christianity's cosmic claims involves all of life, including the life of the mind, and so the task of the intellectual is to work out in his life the reality of the triune God and his purposes in history. Noll discusses the reasons many Christians downplay or dismiss the intellectual and why, even though he has some sympathy with certain criticisms, an anti-intellectual stance ultimately cannot be squared with the truth of Christianity. He ends with some critical observations he accepts regarding his earlier work, The Scandal of the Evangelical Mind.        ⇧
•     •     •
Alan Jacobs
"He's very much aware that when the war is over, that's not going to mean the end of anxiety, that it's going to mean a renewal of anxieties. People don't know where they are in the cosmos, and they are going to feel even more lost in the cosmos (to borrow a phrase from Walker Percy), when the war is over and they don't know who their enemies are anymore."
— Alan Jacobs, editor of The Age of Anxiety: A Baroque Eclogue (Princeton University Press, 2011)

Literary critic Alan Jacobs explores W. H. Auden's book-length poem, The Age of Anxiety. Auden, according to Jacobs, was a virtuosic poet, motivated by a strong sense of vocation. Auden believed that every master poet worth his salt should be able to write to order when asked. He viewed his vocation as that of a craftsman, being able to produce particular artifacts when asked no matter how he "feels" on that occasion. But his proficiency in every poetic form he heard of was more than just to expand the carpenter's toolbox. Auden understood that each poetic form was a different window from which to view reality, and that some views were only possible through certain forms rather than others. A deeper knowledge of the world was at stake. One aspect of that knowledge Auden gradually came to perceive related to the state of anxiety he perceived in Western society, an anxiety that predated and continued through and even after World War II. Jacobs tells of Auden's sense of the source of that anxiety and its social and spiritual repercussions, and of Auden's recommendations in response to the malaise.        ⇧
•     •     •
Jonathan Chaplin
"Instead of shrinking human experience down to one or other of its most basic elements and trying to explain everything else in terms of that basic element - whether it's the physical or biological or the psychological - he wanted to expand it or keep us all alert to the expansiveness of creation, its multidimensionality."
— Jonathan Chaplin, author of Herman Dooyeweerd: Christian Philosopher of State and Civil Society (University of Notre Dame Press, 2011)

Jonathan Chaplin discusses the work of Herman Dooyeweerd, whose writings responded to secular or Enlightenment liberalism in general, but in particular the tendency for liberalism to morph into an increasingly pervasive authoritarianism with respect to the apparatus of the state. Dooyeweerd saw much of this tendency in the period of time leading up and through the stock market crash of the late 1920s. Significant to his thinking was the idea of institutional pluralism in which institutions (e.g. the state, family, church) occupy separate spheres within which each institution held and exerted sovereignty. It was a bulwark against the sort of institutional monism Dooyeweerd saw emerging from liberalism. Chaplin relates some of the biographical background that led to Dooyeweerd's distancing himself from academic theology in pursuit of a philosophy independent from theology that would provide the framework for understanding other fields and setting their terms. In spite of Dooyeweerd's articulation of a pre-theoretical religious "ground motive" which he believed underlay even philosophy, Chaplin is not entirely convinced Dooyeweerd was successful in trying to form a philosophy independent of theology. Nonetheless, Dooyeweerd's expansive philosophy proved to be fertile soil for the theory of numerous influential thinkers from a diverse range of fields in the twentieth century, including the work of aesthetician Calvin Seerveld. Chaplin explores the reasons why Dooyeweerdian philosophy bore fruit in aesthetic theory.        ⇧